The animator shared a huge contribution to 2019's Metro Exodus
Shocking news hit the gaming community as Andrii "Nizrok" Korzinkin, an animator at 4A Games, died fighting the Russia-Ukraine war. Leonid Stepanov, a gameplay designer at Remedy Entertainment, shared the news on his Twitter handle on 2 October 2022. Korzinkin worked on 4A Game's Metro series where he created lots of quality animations. The loss bears an unimaginable cost to the gaming community as Korzinkin was a talented animator who could've contributed a lot more to the game industry. He voluntarily joined the Ukraine armed forces to fight the Russian invasion of his country.
Andrii "Nizrok" Korzinkin (@korzinkin_3d) died while performing a combat mission in the struggle for independence, sovereignty and territorial integrity of Ukraine. A talented animator, incredible person and real hero. Rest in peace, friend. We all miss you. https://t.co/2OC83CMdfU

— Leonid Stepanov (@Leonid_Games) October 2, 2022
A talented animator, an incredible person, and a real hero: Leonid Stepanov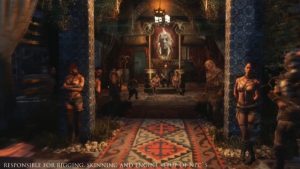 Stepanov shared other details regarding the animator's passion for his work, personal life, aims, and more. Not only the animator confined himself to creating animations, but he was also learning other skills like design and coding for game development. Andrii "Nizrok" Korzinkin started his career at the animation studio Pixelation. He created 3D animation for the company and worked on a TV series titled Angel Baby. After that, the animator joined 4A Games as a senior animator and worked on the then ongoing project Metro Exodus. The late animator Korzinkin was inspired by the work of American video game developer Cory Barlog.
"He was a cool person, a good man with a sense of humor, and an animator of the highest class, which in Ukraine can be counted on the fingers. Oh, what kind of things he created! And his oblique goal kick in table football was impossible to catch. He would still create and create", one of Andrii's friends quoted. Another of his co-worker said, 'We worked together without any competitiveness, only humble and open mind relationships. He always inspires me, always was calm, humble, responsive.'