The confirmation came out just after the leak went online
Sony's continuous effort to bring PlayStation games to PC is well known. And this time, the Japanese conglomerate company has announced their latest 3D multiplayer platforming adventure title Sackboy: A Big Adventure to release on PC platform soon on Steam and Epic Games Store on October 27th this year. A recent blog post from PlayStation blog confirms the game's PC port to release on the mentioned date. With some upgrades to the graphic quality and additional features, the game looks to catch the PC community's attention.
A lot of features are coming with Sackboy: A Big Adventure
Before the official confirmation came out, Wario64 spotted the leak and posted it online.
Sackboy: A Big Adventure is coming to PC on October 27th https://t.co/DVAzW3LC4M

-4K 120FPS
-Ultrawide 21:9
-Nvidia DLSS
-VRR pic.twitter.com/CAisCuCePN

— Wario64 (@Wario64) September 29, 2022
The Latin America PlayStation accidentally published the trailer. However, now we know the leak was absolute. 
As Sony wanted the game to be an upgrade to the console version for the PC gamers, they have added some new graphical features. Sony claimed on their blog post that the newly added features will provide the ultimate fun and top-notch gaming experience. The game will support 4K resolution with a refresh rate of 120 FPS on PC so that players can enjoy the stunning patchwork of Craftworld. More features listed on the blog are:
AI processors on NVIDIA Deep Learning Super Sampling (DLSS2) of GeForce RTX GPUs will boost frame rates without affecting the image quality.

VRR (Variable refresh rate) support. This feature will make the game more responsive.

Sackboy: A Big Adventure will also support a variety of display aspect ratios as wide as 21:9.
The system requirements to enjoy the upcoming title are also kept at a minimal level. Here are the details of Sackboy: A Big Adventure's system requirements.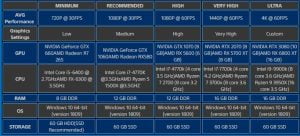 Finally, Sony did not forget to put a special reminder for the players. 'The game is great in single player, however when played in co-op a whole new level of chaotic multiplayer fun ensues!', they claimed. Now, the PC gamers have to keep their patience a little longer while the game is on its way to make its debut.